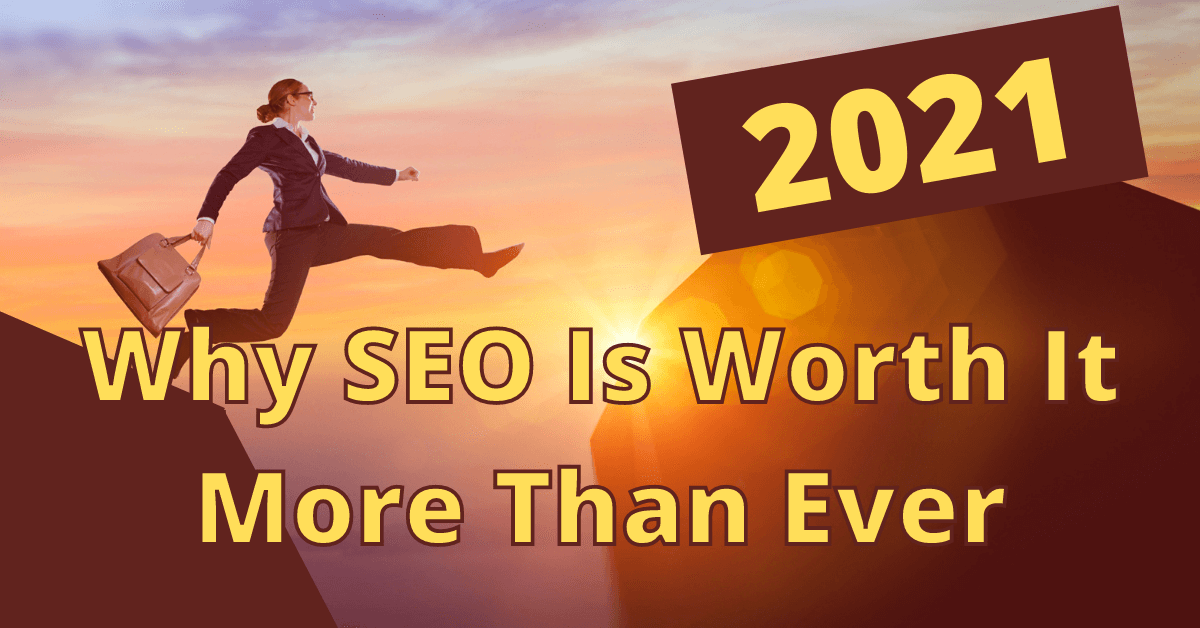 Who cares about SEO when you can advertise your business wherever you want. Google Ads, Instagram, YouTube, Facebook, Tweeter, Tik Tok etc.
There is no reason to work for months from morning to night, to search for keywords, to fix your website, to study your competitors, to find what the gap is, and after all this and much more, to try your luck and try to promote your business organically, that is, by ranking for the desired keywords on the first pages of Google.
I don't want to bore you with whether or not SEO in 2021 is worth it. Τhe answer is that SEO is worth it more than ever.
What is SEO in digital marketing?
A few days ago we had a big meeting for an upcoming collaboration with a big pharmaceutical company and to take over their Google Ads. Their problem was that they paid thousands of euros every month for advertising and didn't make even half of it from their online sales.
To be precise if they didn't have sales from their premises and their network of medical visitors, the company would have bankrupted. In order to make our offer, as we do every time, we started by doing an SEO audit on their page, so we know exactly what we are dealing with.
Believe it or not, their page had no SEO trace, not even the basics which is nothing more than some keywords placed on each page so that search engines recognize what this page represents and show it to the user when he searches for these keywords.
Some of you may wonder, what do you care about SEO? After all, they want to hire you to take over their Google Ads!
And yet we had to reject them because very simply, no kind of digital marketing can be done without proper SEO first. Does that mean we didn't get the job? Of course, we got it and with a lot more money but not for Google Ads but to do SEO.
Ηow can SEO help your business?
Size doesn't matter but if you ask me, smaller companies have many more benefits with costs they can afford but also the unique opportunity to beat straight up their biggest competitors.
Boost Brand Awareness
It doesn't matter if you have the cheapest market prices or provide the best quality products and services. No one is going to find out if they don't know your brand and the problem arises right there.
In the real world, potential customers would walk down the market, see your store, and most likely come in for a look.
In the digital world, yes, you have the same opportunity to do something similar through ads, but it all has to do with keywords, that is, the tip of the iceberg called Search Engine Optimization.
It's simple, the other person doesn't know your company but is looking for something related to it. With the right SEO, we achieve the connection of the brand with the appropriate niche and keywords.
Looking at the issue purely organically, ie whether your page appears higher in search engines and let's not hide behind our finger, in Google, is the most powerful factor to get as many views as possible, to get the customer to your email store and thus increase your reputation and sales.
In any case, the credibility of each brand is directly linked to how high it is ranking on Google and other search engines. We all trust the top results and we visit these top ranking sites from those ranked after the second page.
In other words, SEO is the best way to increase or even take off your brand without any advertising or as few as possible.
Increases your website traffic
As I explained before, the higher your ranking, the more traffic you will have. The competition is fierce and everyone is fighting to their last breath to be in the top three of Google.
Just consider the following: The first three places dominate, occupying 75% of all clicks while 32% are distributed to the rest up to the second page.
But by what criteria does Google select the Top Τhree and who will enter its first two pages?
Keywords are definitely very important but only one of more than two hundred different ranking factors. Unfortunately, you have almost no luck getting to the top two Google pages without a well-organized SEO strategy.
Increase conversions
When it's done right most of the traffic a website gets is due to SEO. And organic traffic allows you to truly understand the visitor's journey.
Starting with the keyword with which he found you and if the page that was eventually led, was what he expected but also what happens to your other pages that are related to it.
Of course, this is just the beginning but it is the first thing an SEO expert will look at to increase conversion, whatever that means for you, whether you want customers
to make a purchase
subscribe to your newsletters
buy a subscription to one of your services
or share your content on social media
The more traffic you have, the more likely you are to convert traffic into sales. And of course, higher traffic gives room for experimentation that provides faster results and safer conclusions.
Increase ROI (Return of Investment)
If we look at it as a whole, the investment starts from the construction of a website. Its design and functionality also determine its effectiveness.
The most common mistake is that few choose to include SEO in the build process from day one. Too often we see well-made sites fail miserably because they have no traffic. So even if you chose a decent company and the result is good, your investment doesn't pay off.
What you may not be aware of, though, is that proper SEO dramatically reduces PPC (Pay Per Click) in Google Ads while at the same time increasing PPC costs for your competitors.
Now you understand why we refused to take over the pharmaceutical company's Google Ads. We are so committed to providing high quality and profitable Google Ads and always proud of the results of all our previous work. We don't want, for any reason, people who trust us to waste their money on ads that they are not going to deliver. And they will not work or deliver their full potential unless there is a solid SEO foundation on the site.
Why is SEO best for the long run?
In all fairness, SEO results are not visible overnight. Especially if the site is new it will take at least six months to see the difference.
An ad is an ad and you will vanish from the face of the earth as soon as you decide to stop it. SEO is a long-term digital marketing strategy that takes time to deliver, but the results it offers are more substantial and are maintained for a much longer period of time.
Of course, the competition in the market is fierce and you need to keep your patience and composure. On the other hand, search engines, with our attention always focused mainly on Google for obvious reasons, are constantly evolving.
The algorithms they use to improve the user experience are constantly becoming "smarter" and stricter while at least twice a year huge updates are made that take a long time for professionals to decipher them using their valuable experience and intuition and the appropriate SEO tools such as SEMrush and ahrefs.
Even if in the first year everything went well and you are on the first page for several of the keywords that count and give you conversions, it doesn't mean that you will stay there forever. Unfortunately, SEO is as dynamic and evolving as search engines and competition.
It is no coincidence that serious companies invest a lot of money by hiring top SEO companies and professionals while there are many who choose to do SEO completely inhouse by adding the right people to their workforce.
This is why SEO is important in 2021
Creating a website is not enough while unnecessary ads have ephemeral results and profits and are certainly not enough to make a business viable.
The secret lies in organic traffic and your ability to convert it into conversions and that is exactly what SEO was, is and will be.
Not just important but essential for any business, big or small, SEO is a long-term digital marketing strategy with consistent benefits that increases the visibility and credibility of your brand by targeting the right audience with the right keywords.
In contrast to the advertising costs that can swallow you up at any time, SEO is affordable and fully customizable depending on the goals and budget of your business while acting as a springboard and safety cushion for the strategy to be followed in SEM.